Whether you travel a little, a lot, or you're more of a stay-at-home pet parent, creating a great meal for your ESA pet is a great alternative to store-bought dog foods. And it's made much easier by using an Instant Pot!
Please feel free to share this with your friends and family via social media. They'll be glad you did!
#1. Homemade Dog Food Recipe With Your Instant Pot
This truly is an easy to make homemade dog food recipe that is both easy on your pup's tummy as well as on your wallet. Just watch how your pup enjoys it!
Dog Food Recipe
2 pounds of chicken breasts (about 3 large breasts)
1 cup rice (I used white as it's gentle on the tummy)
1 cup chicken broth (onion & garlic free!)
A large sweet potato
Bag of frozen peas & carrots
Bag of frozen spinach
Place chicken breasts in Instant Pot with 1 cup low sodium chicken broth. Press the Manual button to 6 minutes, and let natural release. If you don't have an Instant Pot, this can be done in a Crock-Pot or oven, or on the stovetop.
Shred up the chicken, either with forks, or I use my trusty KitchenAid mixer. I just put the paddle attachment on and let it do the work for me! Set aside the chicken.
Cut the sweet potato. I cut it in half and cooked it in the Instant Pot for 15 minutes, then let cool. Dice up or mash the sweet potato into small bites. Add 1 cup rice to the chicken broth still in the Instant Pot.
You can also get creative here and add flaxseed or sorghum grain. Flaxseed is a great source of fiber and boosts cardiovascular health. It's also been shown to have benefits against cancer!
Sorghum is gluten-free, so if your pup has gluten allergies, this could be a great option! Here's a terrific article from Animal Bliss explaining the benefits: Are Sorghum and Flaxseed Good for My Dog? I added one tablespoon of each with the rice.
Pour in the bags of spinach and frozen peas & carrots. If you want, you can substitute/add broccoli, brussel sprouts, okra, or green beans; just adjust the water levels as needed.
Stir and add another cup of water, then cook it all on manual for 10 minutes. Let natural release, and then mix in the shredded chicken.
From here you can decide whether to add a bit more water if it appears dry, or cook a bit longer if it's still pretty soggy. You can also add hard boiled eggs if you'd like.
#2. Homemade Dog Food In The Instant Pot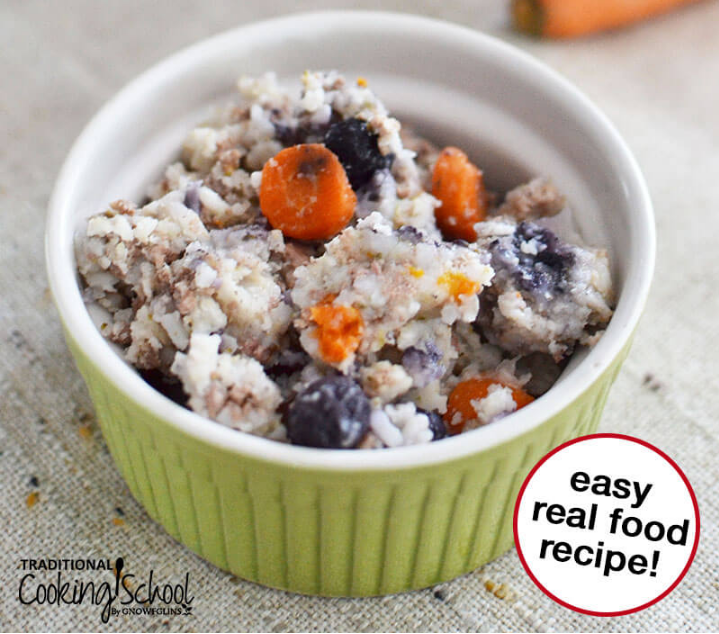 Unlike store-bought dry and unappealing dog food, this is an easy real food recipe, full of protein, healthy carbohydrates, and even fruit and veggies!
Ingredients
3 cups white basmati rice
3 cups pure water
3 tablespoons raw apple cider vinegar or whey
3 pounds ground meat beef, chicken, turkey, venison, or bison
1 pound pastured beef livers or chicken livers (optional, but preferred)
36 ounces veggies various fresh, can use frozen
1 1/2 cups bananas or blueberries (optional)
6 tablespoons coconut oil
6 tablespoons ground flax seed
Instructions
Several hours before you want to make the dog food, soak the rice in water with whey or apple cider vinegar.
Strain, measuring the amount of water left after soaking.
Set aside.
Press the Saute button on the Instant Pot.
Add the ground meat and break it up and the liver, if using.
Cook the meat and liver until they are about half-way browned. You don't want them to brown completely because you still have to cook the rice and veggies in the Instant Pot, and the meat will burn if fully cooked.
Once the meat and liver are half-way browned, add the soaked rice and water, according to the directions in this post.
Stir the meat, rice, and cooking water together.
Add the veggies on top, but do not mix in.
Place the lid on the Instant Pot, making sure it is locked and the vent is sealed.
Change the setting to Manual and adjust the time to 12 minutes.
When the Instant Pot beeps, carefully turn the vent to release the pressure. You may want to place a towel over the steam to protect yourself and your kitchen from any sputtering steam.
Open the Instant Pot and add the fruit (if using) and the coconut oil.
Stir everything together, mixing completely.
Store in the refrigerator for up to 2 weeks or freezer for up to 3 months.
#3. Instant Pot Dog Food
This "chicken stew" type of recipe is nearly great to eat by both pets and humans – just that you'd want to add seasonings for yourself. Chock full of green beans, carrots, brown rice and sweet potato – what's not to love?
Ingredients
1½ cups brown rice
1 large sweet potato, peeled and cut up
6 large carrots, washed, trimmed and sliced
2 cups frozen peas or green beans
1 – 1½ lbs boneless chicken thighs
32 oz no seasonings chicken broth
8 oz water
Instructions
Add ingredients to the Instant Pot in the order listed.
Place the lid on the instant pot. Set the pressure valve to seal. Set the "Meat" setting to 1 hour.
Once the hour has passed. Hit the cancel button to turn off instant pot. Let in naturally pressure release (NPR) for 30-45 minutes. Open the pressure valve to release any remaining pressure. Open the pot and stir.
Notes
Typically if I am adding meat that has already been cooked, I will add it to the pot after I'm done cooking the other ingredients. I did that when I had leftover turkey from Thanksgiving. No need to cook it twice. I've also done that when I've oven-roasted or IP cooked a whole chicken.
#4. Homemade Instant Pot Dog Food For Your Pup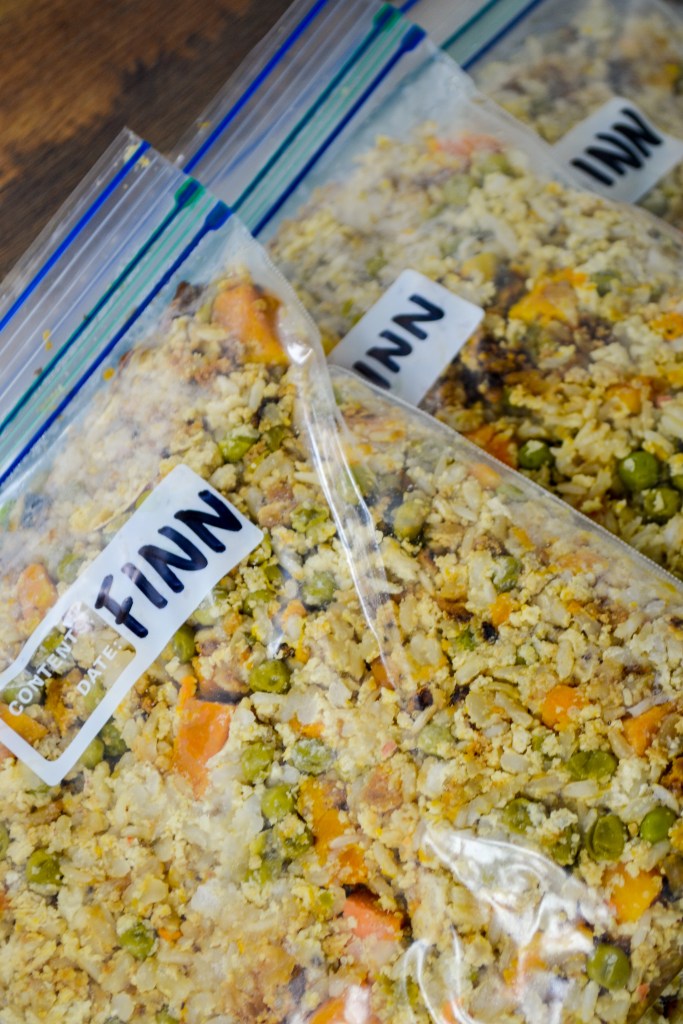 If you have a picky eater, this Instant Pot homemade dog food recipe may just do the trick. It's also great to add to the dog food you may already be giving your pet in order to make it stretch further.
INGREDIENTS
4 sweet potatoes
2 lb ground chicken
1 package frozen peas
2 cups low sodium chicken broth
2 eggs
3 cups brown rice
---
INSTRUCTIONS
Chop sweet potatoes into small cubes
Place sweet potatoes into bottom of Instant Pot with 1 cup of chicken broth
Top with 3 cups of brown rice and 1 cup of chicken broth
Put ground chicken on top of rice
Crack 2 eggs, shells and all, on top of the chicken and mix in
Top with frozen peas
Set your Instant Pot to manual setting for 23 minutes
After 23 minutes, quick release then remove lid and let contents cool
Once cool, mash together and separate into 2 quart size bags
Freeze one bag and keep the other in the refrigerator
One bag should last around a week, as a topper to regular dog food
Make every two weeks to keep your pup happy and healthy
#5. DIY Dog Food In The Instant Pot
If, like Sarah, you're looking for an additive-free alternative to traditional dog foods, as well as have a pup that's sensitive to wheat grains, this delicious recipe might fit the bill.
Ingredients

1.5 cups chopped sweet potatoes
1 cup chopped carrots
1 cup frozen spinach
1 cup frozen peas
1 cup brown rice
2 cups water
2.5 lbs ground turkey (you can use ground beef or chicken instead)
Add veggies, brown rice, water, and then ground turkey. Cook in Instant Pot on high pressure for 25 minutes. Turn it off when it's finished and let the steam naturally release. All done! Portion out the proper servings for your pup. Luca is about 50 lbs so she gets three cups of food total per day. It's important to note that your dog will also need calcium, so this bone meal is a great add in! I also scoop a spoonful of coconut oil in to help her skin and get her some good fat.
#6. Healthy InstantPot Dog Food Recipe
We want to keep our pups both happy and healthy, and this holistic whole-food homemade dog food recipe is just the ticket! It gives calcium from egg shells, fiber and iron from spinach, and healthy fats from coconut oil.
Healthy InstantPot Dog Food Recipe
Ingredients
2 whole chicken thighs
1 cup brown rice
1 – 6 inch sweet potato peeled and chopped
2 – 7 inch carrots chopped unpeeled
1 cup shredded spinach, or peas (check with your vet before giving your dog spinach)
2 1/2 cups water
1/2 tsp finely ground egg shell, or calcium supplement
Coconut oil if you choose
Throw all the ingredients except coconut oil in the InstantPot. Cook on manual for 23 minutes, turn off and let natural release. Take chicken off bone, shred, and stir all ingredients well. Add coconut oil if desired while the mixture is warm.
That's it, easy. Will I cook this every two days for them? Probably, it depends. When we are in one place for a little while then yes. Obviously travel days it's impossible to cook for us, never mind the dogs. Am I excited to give them healthy natural food, you bet! Am I all about saving money, ya that too.
This recipe could easily be doubled, even tripled, but I don't have space in my freezer for anything other than people food.
And it goes without saying, but I'll say it anyway…when feeding your dog new food, take it slow. Mix part of the old with the new to avoid any upset tummy issues. And don't be alarmed, the sweet potatoes and carrots make a nice orange poop. Easy to find in the lawn actually.
The total calorie count for this recipe is 1271, that does not include the coconut oil. 1 TBLS of coconut oil adds 117 calories.
The recipe makes about 4 1/2 cups total. I had to break it down so I knew how much each dog would get based on their calorie needs. 1 cup of food is 282 calories. But I added coconut oil bringing the per cup calorie total to 308. Roxy gets 1/2 plus 1/8 cup per day, and Torrey gets 1 3/4 cups. I just divided any remainder between all the servings. This batch of food will feed them for two days.
#7. Healthy Homemade Dog Food – FAST
If you want high-quality, human-grade, dog food that you can make quickly and in bulk, this homemade dog food is great for dog lovers who want to give their puppy only the best. It also produces a shiny coat!
Ingredients
2 frozen chicken breasts (3 if you're feeling generous)
2 carrots
2 cups of white rice
1 medium-sized sweet potato
1-2 cups of frozen spinach
2.5 cups of water
Cooking Directions
Add half a cup of water to the pot in your Insta Pot. Optional: Microwave the water for 1.5 minutes first to speed up the process
Add the frozen chicken breasts to the pressure cooker.
Close the lid and seal. Set electric pressure cooker for 30 minutes at high pressure.
While the chicken cooks, skin and medium dice the carrots and sweet potato
Rinse the rice and let soak for a minute, then drain to remove excess starch, Repeat 2 more times.
When the 30 minutes are almost up, microwave the remaining 2 cups of water for 3 minutes to speed up the process.
At 30 minutes, the chicken is done. Fully release the steam from your pressure cooker, then open the lid
Add the diced sweet potato and carrots, rice, and hot water to the cooked chicken. Stir so that all the rice is underwater, then close the lid again and seal.
Set electric pressure cooker for 12 minutes oh high pressure.
After 15 minutes, fully release the pressure. Open the lid and mix in the spinach. Shred the chicken with a large spoon, and combine well with the veggies and rice.
Separate all food into five Tupperware containers (the Rubbermaid 1.25 cup containers work well) and refrigerate.
When you want to feed your dog, remove the container from the refrigerator, remove the lid and heat for 1.5 minutes. Mix well and serve with a plastic spoon or in bite-sized clumps in a large bowl.
#8. Easy DIY Dog Food You Can Make In Your Instant Pot
This homemade dog food recipe for Instant Pot matches all three criteria: it saves you money, is quick and easy to prepare, and has great health benefits for your beloved pup.
Ingredients
Chicken breast 2 breast
Carrots 2 stalks
Green beans 1 cup
Sweet potatoes 1 med
Brown Rice 1 cup
Blueberry 1 cup
Peas 1/2 cup
Parsley for garnish
Water 2 cups
Method
Add 1 cup of brown rice
Add 2 chicken breast on top of rice
Add the rest of the ingredients: chopped carrots, green beans, sweet potatoes, along with peas and berries
Add the water
Manual high pressure 25 min
Natural release 10 min
Manual high pressure for 25 min. Natural release for 10. (If using frozen ingredients, add a few more min)
Garnish with parsley (optional)
Click here for Easy DIY Dog Food You Can Make In Your Instant Pot
#9. Instant Pot Dog Food Recipe Your Fur-Pup Will Love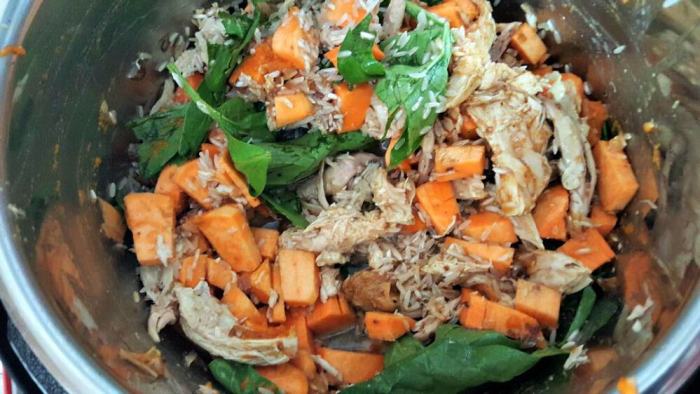 Are you looking for a homemade dog food for Instant Pot recipe that's not only great as an everyday meal but also encourages weight loss? Then look no further!
Ingredients
1 whole chicken
3 cups chicken broth (no onions in ingredients)
2 sweet potatoes, peeled and diced
2 cups baby spinach
1 Tablespoon coconut oil
2 cups rice
1 cup blueberries (optional)
Instructions
Add everything to the Instant Pot
Press Manual for 30 minutes
Quick Release when it beeps
Remove chicken from bones and shred.
Store in airtight containers
Notes
You can save time by using a rotisserie chicken already cooked. We also save our leftover meat throughout the week and use it in place of the whole chicken.
You can substitute pork or a combination of proteins (pork, beef, chicken, turkey, etc.)
#10. Easy 30-Minute Pressure Cooker Dog Food Recipe
Your puppers deserves the very best, and what's better than a nice, home-cooked meal? This truly is a quick and easy homemade dog food recipe that will keep your dog happy and healthy.
Ingredients
We recommend the following ingredients in this 30-minute recipe for a pressure cooker or Instant Pot:
3 pounds ground meat beef, chicken, or turkey
1 pound beef or chicken livers (optional)
3 cups water
36 ounces various fresh or frozen veggies
3 cups white basmati rice
1 1/2 cups bananas or blueberries (optional)
We have adapted and simplified this recipe from an Instant Pot recipe online but it can be used for cooking in a pressure cooker, crock pot, or even on the stove top.
We have used ground meat in this recipe because 30 minutes is not always long enough to soften bones in a pressure cooker. If you want to give your dog bones with his food (such as cooking a whole chicken), you will probably need to let the food cook longer. Crock pots are very good for letting food cook slowly. Bones will come out as soft as mush and they won't be any risk for your dog.
There are other meats you can use for this recipe but unless your dog has been diagnosed by a veterinarian with a food allergy, it's usually best to stick with meat proteins that you are familiar with.
Most dogs are able to eat these ingredients without any problems. There is a concern at this time about the effects that peas, lentils, and legumes (members of the pea family), along with potatoes and sweet potatoes in dog foods might be having on taurine levels in dogs. For this reason, we suggest that you avoid using these vegetables when you make this recipe, at least for now.
You can easily buy a frozen California Medley that contains carrots, broccoli, and cauliflower to use in the recipe. These frozen bags of vegetables are found in most grocery stores.
If you would rather cut up fresh vegetables, you can use some of the following veggies, equaling about five (5) cups:
broccoli
cabbage
carrots
cauliflower
celery
cucumbers
pumpkin
squash
zucchini
You can also add some fruit to the mixture. Fruits are a good source of antioxidants and fiber for dogs. You can add about 1 ½ cups combined of some of the following:
apple
banana
blueberries
cantaloupe
mango
peaches
raspberries
strawberries
watermelon
If you use some of these fruits in your recipe, be sure to remove the pits from fruits such as peaches. It's a good idea to remove the seeds from apples, too. Your dog would have to eat lots and lots of seeds to be affected by them, but there's no sense taking any chances.
Directions
Soak the basmati rice in water several hours before you are ready to cook.
Strain the rice to remove the liquid. Keep the liquid and set it aside.
Cook the meat and liver (if you are using the liver) in your pot until they are about half-brown.
Add the rice and the liquid you removed from it to the meat in the pot. Stir them all together.
Add your vegetables to the top of the rice and meat but do not mix them in with the other food.
Put the lid on your pressure cooker or Instant Pot. Make sure that it's locked and the vent is sealed.
Put the setting on Manual and set the time to 12 minutes.
When 12 minutes is up, or the Instant Pot beeps, carefully turn the vent to release the pressure. You may need to use a towel to protect yourself from the steam.
If you are using fruit in the recipe, open the lid and add the fruit at this time.
Stir everything together and mix completely.
Makes 16 cups of food.
This food will keep in the refrigerator for several days in airtight containers, or in the freezer for up to three (3) months.
Use these calculations from PetMD to determine what to feed your dog.
Conclusion
I love using my Instant Pot to create tasty, nutrient-rich meals for my own dogs and I hope this list will help you out as much as it has done so for me and my own pups. They get excited whenever I break it out!
If you have found this post helpful please share it with your friends and family on social media. Doing so helps me be able to bring you more great content here on DogsDamesAndDudes.com!