When our favorite pooch's birthday rolls around it can be hard to find the right special way to celebrate, but thanks to Rosanna Pansino we have an amazing doggie birthday cake recipe that is both delicious and safe for our party pooch! By the way, you can find her Peanut Butter Dog Biscuits or her Chicken Flavored Ice Cube Bones by clicking the links. Enjoy!
TOOLS & INGREDIENTS REQUIRED
2 Mixing Bowls
Hand Mixer
2 4″ Springform Pans
Canola Oil Cooking Spray
Flat Metal Spatula
(Optional) 2 Plastic Piping Bags
(Optional) #21 Decorating Tip
(Optional) Mini Cake Stand
(Optional) Birthday Candle
1 Pound Organic Ground Beef
1/4 Cup Rolled Oats
1/4 Cup Shredded Cheddar Cheese
1 Egg
1 Cup of Peanut Butter
1 Tablespoon Vanilla Extract
1 Ripe Banana
(Optional) Edible Confetti (Sprinkles)
Step 1: Add Ingredients For Meatloaf Cake
To begin, preheat oven to 350 degrees. Next, add the ground beef, egg, rolled oats and shredded cheese to the mixing bowl. Mix thoroughly with your hands.
Step 2: Place Mixture Into Pans
Take half of the meatloaf mixture and place it into the springform pan, pressing it level. Repeat with the other half of mixture (just eyeball it).
Step 3: Bake Meatloaf Cakes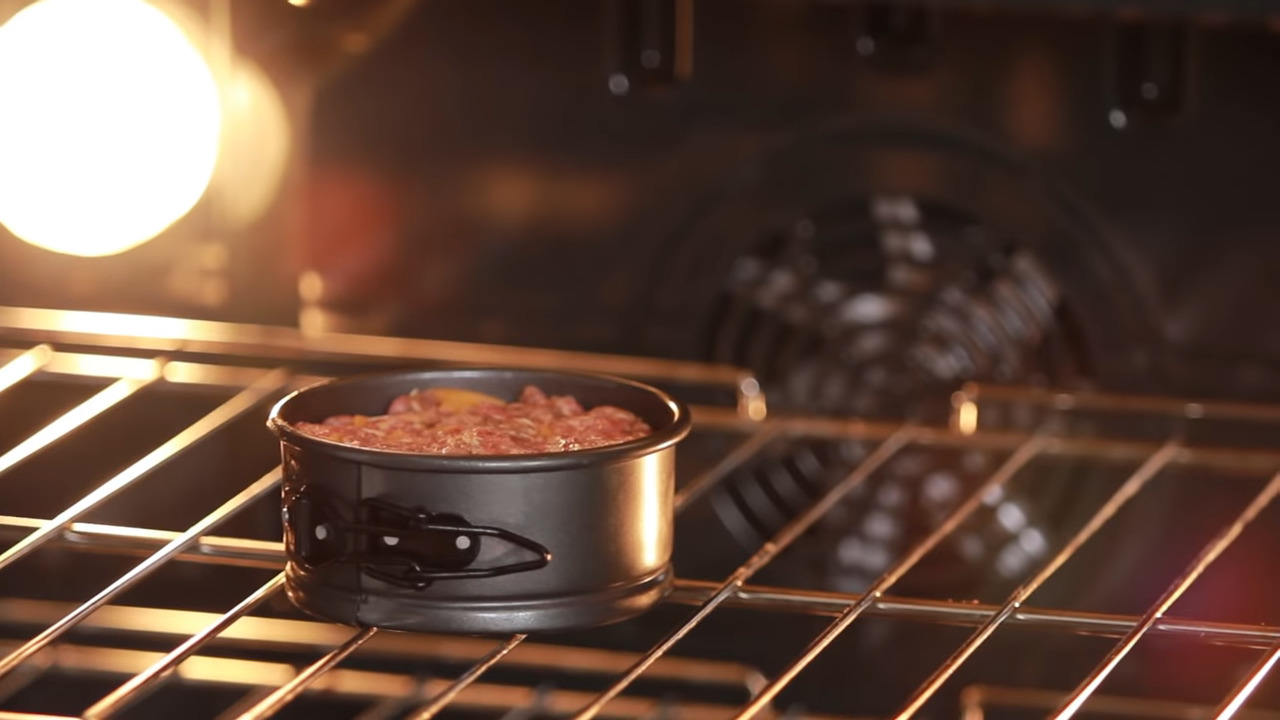 Once oven is preheated, place the pans onto the middle rack, baking for 40 minutes (or until fully cooked).
Step 4: Prepare Doggy-Friendly Frosting
While the meatloaf cakes are baking, place the peanut butter and the banana, broke into smaller pieces, and also the vanilla extract into clean mixing bowl.
Using a hand mixer, blend these ingredients together until well combined.
Step 5 (Optional): Prepare Icing Bags For Decorating
Place majority (2/3rds) of fronting mixture into a plastic decorating bag with no tip. This will make frosting the cake quicker and easier.
With a second bag, add the plastic coupler and use #21 frosting tip. Fill with remaining frosting. This will be used for a fancier decoration.
Step 6: Prepare Double-Stacked Birthday Cake
After the meatloaf cakes finish baking, remove from oven and let cool. They can still be warm but ensure they are safe to handle.
Using a knife, cut the tops off of the meatloafs to level them. This will make it easier for you to stack them.
Place the bottom tier of your meatloaf cake on (optional) mini cake stand or serving plate of choice.
Next, squeeze a layer of peanut-butter banana frosting on the top, pressing down and spreading with flat metal spatula.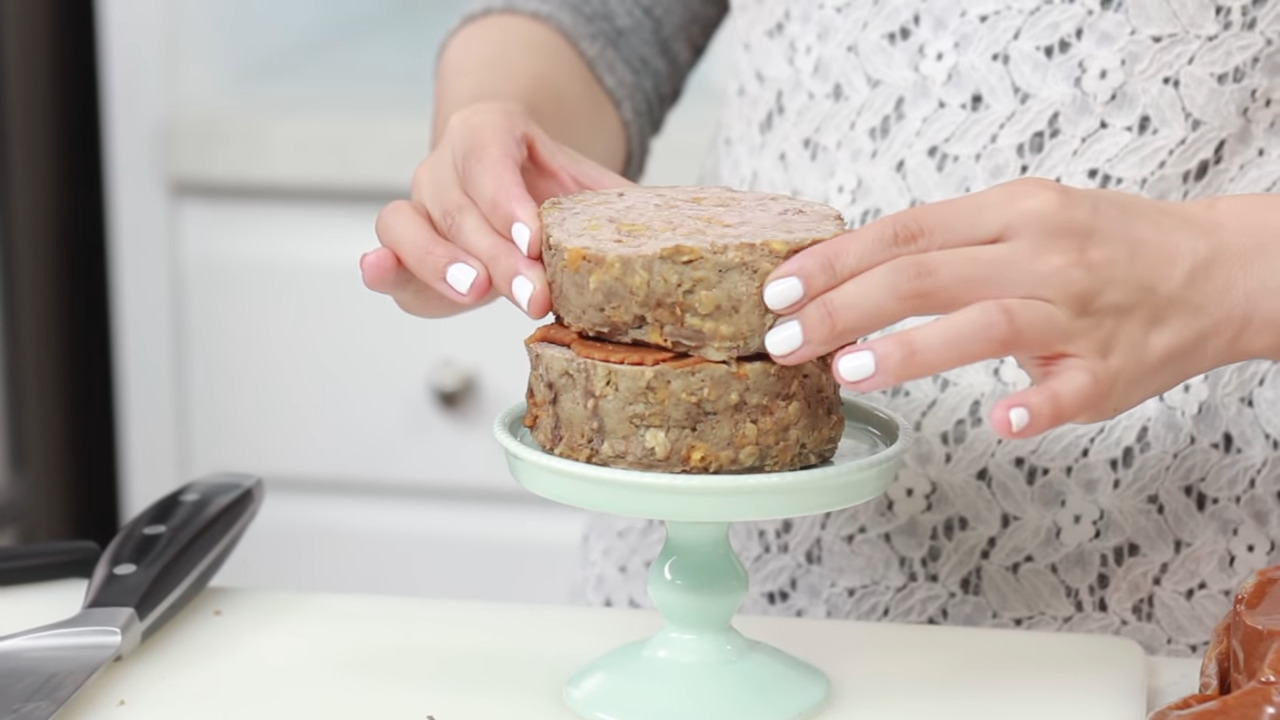 Then, place second layer on top of the first.
Step 7: Frost Outside Of Meatloaf Cake
Pipe frosting on top of cake, using spatula to press down and spread over the top.
Next, using hands, press and spread the frosting around the sides of the cake, covering it completely.
Step 8 (Optional): Decorate Doggie Birthday Cake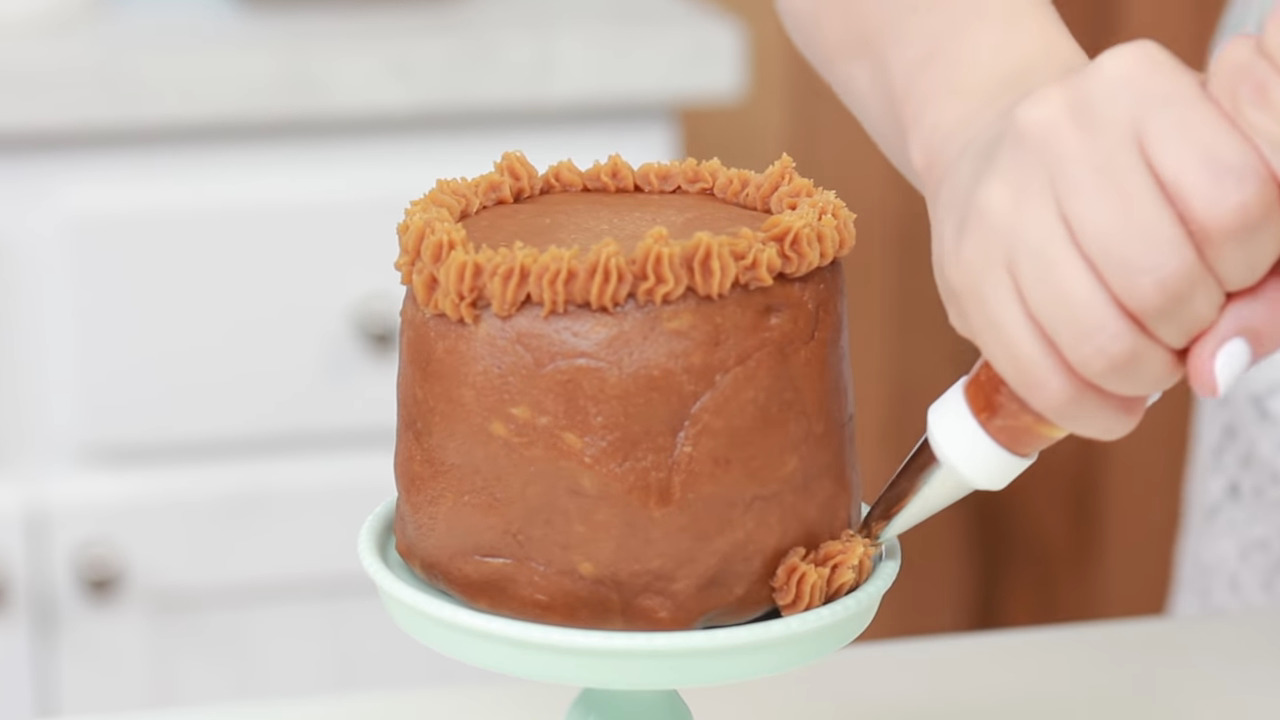 Using other piping bag, pipe a circle of stars around the top and bottom edge of the dog's birthday cake.
For final touches, add a birthday candle in the middle (remove before serving).
Also, for a splash of fun and color, add edible confetti (make sure these sprinkles do not have any chocolate!) on top.
Step 9: Enjoy Your Dog's Birthday Celebration!
Simply slice like any other cake and serve to your special doggo and their doggy friends.
If you would like to watch a video of Rosanna showing how easy it is to make this dog treat, you can find it below:
If you would like to see more recipes like this, and if you have truly enjoyed this one, please share it with your friends via social media. This helps show us we are on the right path and we love serving more people just like you. Thank you!