Continuing our image series on celebrities with their favorite pooches, today we bring you 19 images of famous men and their fabulous dog companions. It's heartwarming to see so many guys taking care of their dogs during this pandemic while also taking care of themselves by getting in some exercise and/or running errands. We hope you enjoy!
1. Brad Garrett transported his dog in a carrier while out and about in Los Angeles
2. Chace Crawford grabbed a green juice in Los Angeles's Los Feliz neighborhood with his adorable dog in tow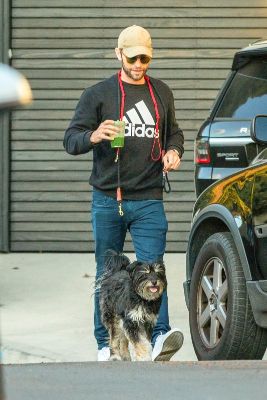 3. Friends for Life ambassador James Middleton posed with some of his dogs — Luna, Inka, Ella and Mabel — in London
4. Simon Cowell walked his dogs on the beach in Bridgetown, Barbados
5. Justin Bieber played with his dog after leaving a Los Angeles dance studio
6. Justin Theroux looked stylish while walking his dog, Kuma, in New York City
7. Paul Rudd took his pup for a walk on a chilly day in New York City
8. George Lopez posed with a rescue dog on the set of Hallmark Channel's "Home & Family" at Universal Studios in Hollywood
9. Democratic presidential candidate (and former vice president) Joe Biden was greeted by a dog during a campaign stop in Las Vegas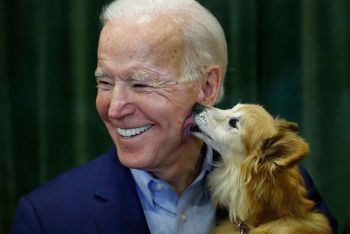 10. Liev Schreiber enjoyed a walk with his dog while braving the cold in New York City
11. Designer Michael Kors posed with the winner of the 144th Annual Westminster Kennel Club Dog Show — Siba, a black standard poodle — in New York City
12. Zachary Quinto took his dog on a walk in New York City
13. Alan Cumming brought his dog to the afterparty of "Endgame" in London
14. "The Bachelorette" alum Wells Adams took his dog for a run in Studio City, California
15. Tom Felton took his pupper, Willow, for a stroll in Venice, California
16. Jeremy Piven took his dog shopping in West Hollywood
17. Conan O'Brien was almost unrecognizable as he took his dog for a walk in Los Angeles
18. Colin Farrell and his dog went for a walk in Los Angeles's Los Feliz neighborhood
19. Shia LaBeouf and his dog stopped by a juice bar in Los Angeles
There is nothing more handsome and endearing than a man with his best friend and companion: the blessed dog. We hope you enjoyed these and look forward to the next post where we will give famous women the special treatment as well. If you enjoyed this post, please share it on social media with your friends and family. Thank you!